Welcome to DocuTie
Save all your unstructered content like e.g. PDF, E-Mail, Power-Point Presentation or films in your Microsoft Dynamics 365 Business Central. Everything in the right place - no search required. But how? DocuTie links all unstructured content directly where needed in your work processes.
Would like to save unstructured content without being linked to a transaction? Simply create a wallet and organize your unstructured content there.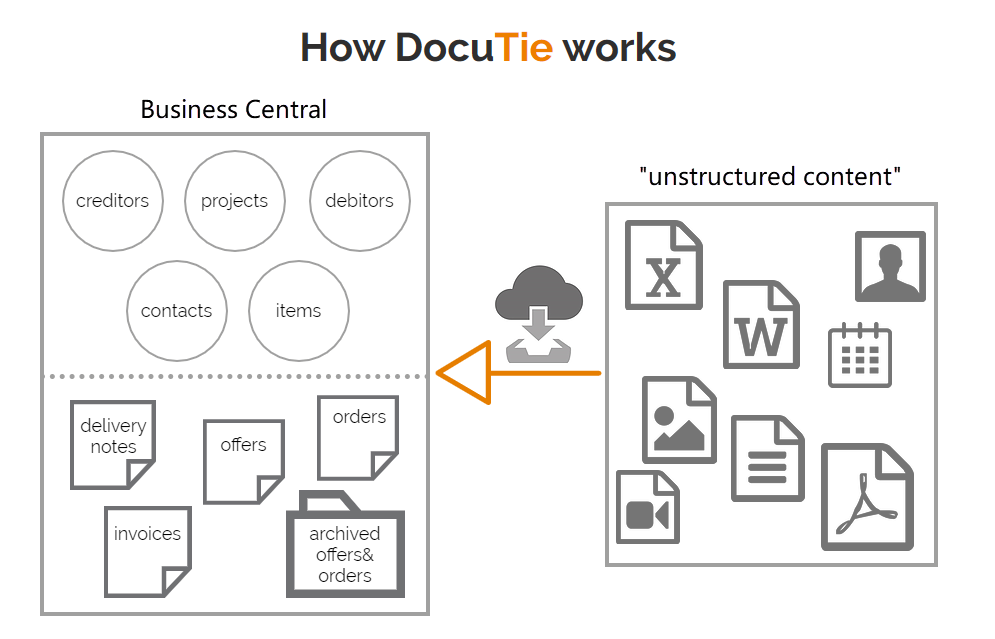 Features of DocuTie:
For example, you are currently working on a vendor and would like to see the last offer you received? This is immediately at hand because you can view all unstructured content linked to this vendor without opening another page.
A preview in a thumbnail also prevents you from having to open multiple files to really find what you're looking for.
Drag&Drop your unstructured content (like e.g. PDF, PPT, XLSX, JPG and many more) into the DocuTie-Drop Zone to save and immediately link it with customers, vendors or documents such as Quote, Order, Delivery Note, Invoice.
The special feature of DocuTie is that your unstructured content never leaves your Microsoft Dynamics 365 Business Central – why should it? Those who use Dynamics in the cloud should also store their content right there. DocuTie does not need any Third-party software or systems – Dynamics 365 Business Central is all you need.